It's the end of February which means the end of Yes We Crab! I wanted to read 20 books this month and post once a week. My blogging goal failed, but I did make my reading goal of 20 books-yay!
Here's what I finished the month up with:
My Dog's a Chicken
by Susan McElroy Montanari, illustrated by Anne Wilsdorf
When a young girl isn't allowed to get a dog, she decides she'll turn a chicken into a dog. A pretty cute picture book for the K-2 crowd.
A Big Surprise for Little Card
by Charise Mericle Harper, illustrated by Anna Raff
-My new favorite book to read at Library-themed outreach events and storytimes! This is a unique look at libraries through the eyes of a library card. And it's adorable!
Swap
! by Steve Light
-I just love Steve Light's pen and ink illustrations. Did you ever play that game where you started out with something small then had to go all around to try and upgrade and swap your item for something bigger? That's what this reminded me of-only with pirates.
Whoops
! by Suzi Moore, illustrated by Russell Ayto
-A new pick for storytime. Three animals who can't make any sounds seek out a lady with a spell that might help-only things keep going wrong. This is a perfect read-aloud with a hilarious ending.
Peep and Egg I'm Not Hatching
by Laura Gehl, illustrated by Joyce Wan
-A very cute tale about having courage perfect for the preschool set. Plus it's illustrated by Joyce Wan so you know Peep and Egg are adorable.
No, No, Gnome!
by Ashly Anstee
-Who can resist gnomes? I love them! This is a nice gardening tale with a gnome twist. I'm saving for when I get all the requests for Spring/garden/planting books.
Snappsy the Alligator (Did Not Ask to Be in This Book)
by Julie Falatko, illustrated by Tim Miller
-Move over Mo Willems and Bob Shea! Perfect for fans of books that break the fourth wall and have a great sense of humor. I'm planning on writing more about this one-it's a great storytime option and read aloud!
The New Guy (And Other Senior Year Distractions)
by Amy Spalding
-Contemporary YA Romance. Reviewed for Booklist
A Tiny Piece of Sky
by Shwan K. Stout
-Historical MG-a great read for middle grade to compare historical events (thoughts and actions towards German-Americans in 1940s) to now. Reviewed for AudioFile.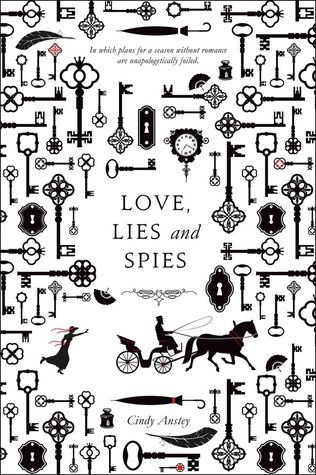 Love, Lies and Spies
by Cindy Anstey
-Regency YA romance-a tounge-in-cheek look at the regency era. Reviewed for Booklist.
Raymie Nightingale
by Kate DiCamillo
-Another Kate DiCamillo novel-and it's brilliant! More to come soon when I write a longer review!
How did you do on your Yes We Crab Goals? Any great reads you found this month?